Synopsis:
Welcome to June
Large upper-level low responsible for severe storms in the southeast moves off the coast today
On/Off Clouds Today; Seasonable Temps
Tomorrow temps in mid-80s, chance of strong storms
Discussion:
Satellite Imagery:
You can see the upper level low and cloud cover extending all the way back near Harrisburg. This will keep temps down during the day, but I do expect a mix of clouds and sun. There will be an easterly component to the wind this afternoon and a marine layer will sweep through NJ.
Panning out to see a wider view. Pretty large storm for this time of year with the front extending off the SNE coast and down off the FL coast
You can also see darker green shades (indicating moist air) developing in the Plains.
Current RAP analysis of the 500mb shows shortwave trough axis making its way down from Canada. It will be here tomorrow and that will increase our chances of seeing thunderstorms.
Forecast:
Forecast high temperatures (below) should keep things comfortable, but there will be a little mugginess in the air.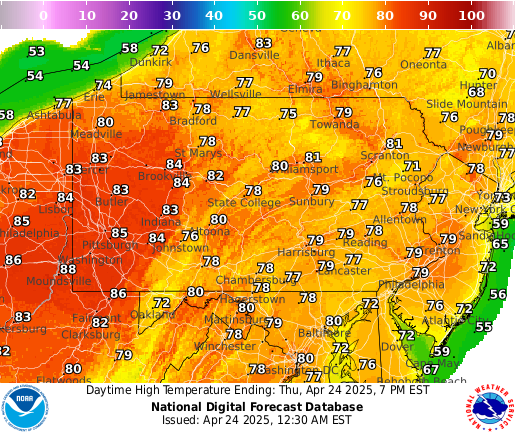 Tomorrow:
Similar story to today as far as temperatures go. However, we will be increasing our chances for storms in the afternoon with our next front moving through.
3km NAM high temps
Composite Satellite
At the moment the likelihood of severe weather is low-moderate, but it is a bit too early to say.
I will get more into this tomorrow, but the CAPE will be elevated approaching 3000 J/kg, there will be strong mid-level lapse rates, and shear at the mid/upper levels. Current hazards does include severe weather. It does not appear hail or tornadoes, likely a downburst of winds associated with cold front that can be in excess of 60 mph.
---
---
---
Follow me on twitter