Overview
Shortwave trough moving through Ohio Valley with cluster of storms
Cluster will move through southern part of the area this evening
More storms tomorrow with stalled frontal boundary
Current Analysis:
We have a slow moving cold front to the north and a blocked pattern overall across the CONUS/N. America. I talked more about this yesterday in my update; to read that click on the button below
Radar showing some rain showers off to the north in New England and over by C. PA and W. PA. Main focus of storms this evening will be further south into Maryland, DE, SNJ.
Satellite pretty much showing widespread cloud cover, some breaks in the clouds can be seen in SE PA, SNJ, MD, and DE. This will lead to further instability.
Latest 500mb analysis shows shortwave trough moving through MD/W PA.
And we can also see troughing over Oklahoma, another low pressure area dipping into North Dakota from Canada, and lastly, split flow out west with low pressure in California. Its going to be a busy, wet, week ahead for much of the eastern 1/3 of the country.
As far as today is concerned, Mount Holly and SPC forecast slight chance of severe storms.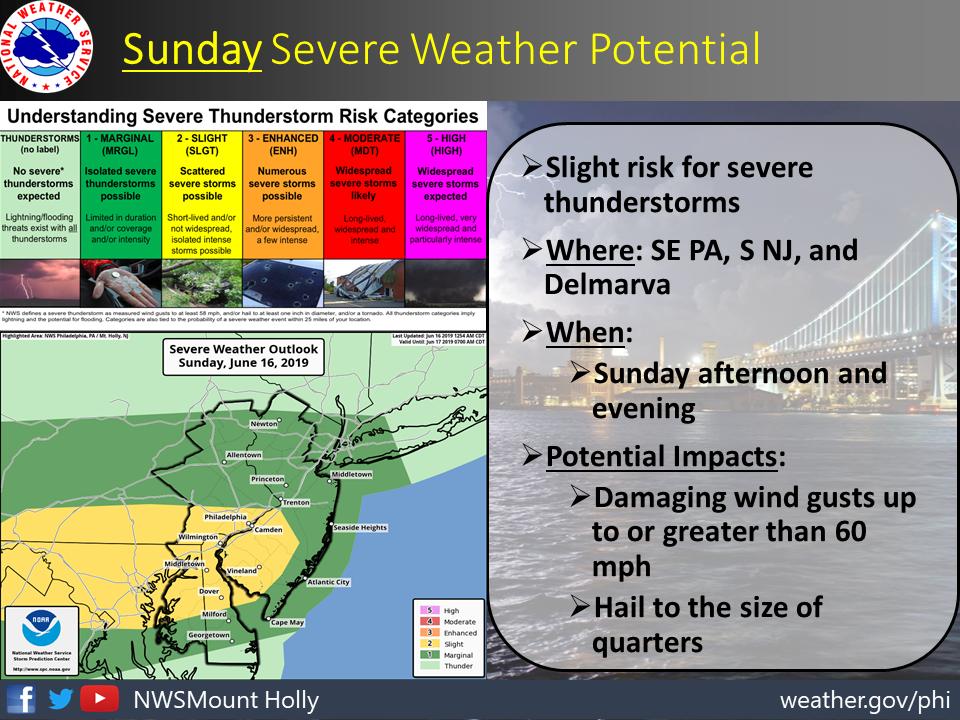 As of a few moments ago, SPC issuing mesoscale discussion with possibility of adding a watch soon.
We have increasing instability, as seen with higher MUCAPE values, and less convective inhibition. The shortwave trough will be the trigger for continued thunderstorm threat. Plenty of shear as well, and even some rotation is noted on the soundings for this afternoon.
HRRR for 5 PM
Storm clusters with possible hail and gusty winds being shown here
Not a tremendous amount of CAPE, generally running between 1000-2000 J/kg, but it will be enough to maintain storms.
3km NAM a little more agressive
Things will depend on the timing of convective potential and the shortwave entering the region. If the trigger shortwave makes its way early evening, then storms may be severe. Too soon, or too late, and the potential is limited. Regardless, not a widespread event. Just some clusters of strong/severe weather. Could see a line form in MD moving eastward into SEPA/SNJ.
For those enjoying your Father's Day outside, keep an eye to the sky and stay weather aware!
---
---
Follow me on twitter