Current Conditions Overview
We have a warm front/semi-stationary boundary that his lifted north a little bit today. Latest surface map has it over NEPA/NNJ. This front has been the focal point for heavy rainfall and thunderstorms the last 2 days. This surface analysis via collaborative efforts of the WPC, NHC, and OPC, was as of 330 PM.
However, the final push is well to the west over Ohio. That is the final cold front that will make its way through the area tomorrow morning.
The area has been hit hard with storms and heavy rainfall over the last 5 days, and in particularly, over the last 48 hours. Below is the 48 hour rainfall total ending at 4 PM.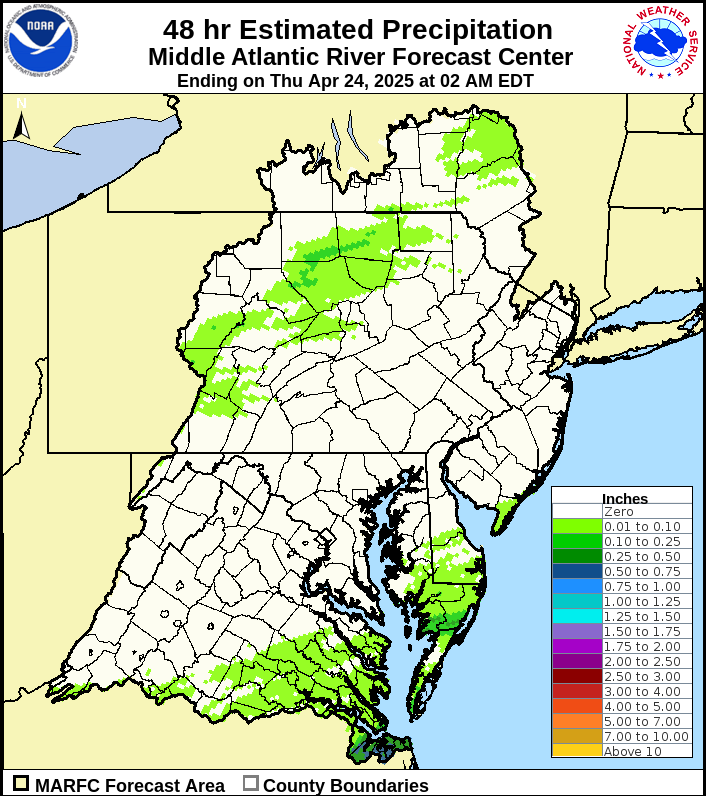 Most recent radar showing cluster of storms moving through Bucks and also a line in NEPA and SNY. The line of storms is being enhanced by moving across the semi-stationary front and the winds that are feeding into it. Same mechanism for NNJ. There is also a fair amount of CAPE over the area to add some fuel.
---
This Evening
HRRR showing discrete thunderstorm cells throughout EPA, NJ, MD, and WPA. This will last throughout the evening. However, unlike last night, they will not train over the area over and over. Typically fast movers embedded with a distinct west-east flow this evening. And then shifting to more southwest to northeast later this evening.
---
Instability
Presently over the area there is a lot of CAPE still available for storm to tap into. Some locations even over 3000 J/kg of CAPE. As stated, NEPA line of storms have plenty of fuel for the thunderstorm activity and they are running right along the semi-stationary front.
Any time of year, that's plenty of juice to work with. However, most of the lifting mechanisms to initiate the convection have lifted north and eastward out of Philly, limiting thunderstorm activity for most of the immediate area aside from isolated discrete cells.
The RAP for tonight showing more enhanced vorticity moving through around midnight, which will enhance some showers/storms in a fair portion of EPA, MD, NJ, and NY.
This will lead to more convection, this image is 1 hour precip totals by 2 AM.
You can see also the last line swinging through W. PA. and this is the area associated with the cold front that will slowly move through our area tomorrow early afternoon.
On and off thunderstorm activity is expected throughout the evening, particularly in W. PA, C. PA, and W NY, as part of the cold front boundary that is moving slowly eastward.
Continued monitoring is needed throughout the night. The last significant push through Philadelphia is making its way through now, but the overnight hours may feature more rain. Please use caution while driving as many roadways are flooded right now.
Turn around, don't drown!