Hello everyone and welcome to my first post!
Today I will talk about the short term weather for Philadelphia. It is going to be a nice and toasty summer-like afternoon with high temperatures reaching the upper 80s for much of the Greater Philadelphia area. As you can see from the image below in the top right corner, we have high pressure sliding off the coast pumping up warmer air into the region. There is a low pressure area over the mid-west, and that will serve to spark up some thunderstorms this afternoon.
12 WRF here
The low pressure area is associated with a cold front and will bring with it a a chance for severe thunderstorms. There is a slight risk this afternoon according to the Storm Prediction Center.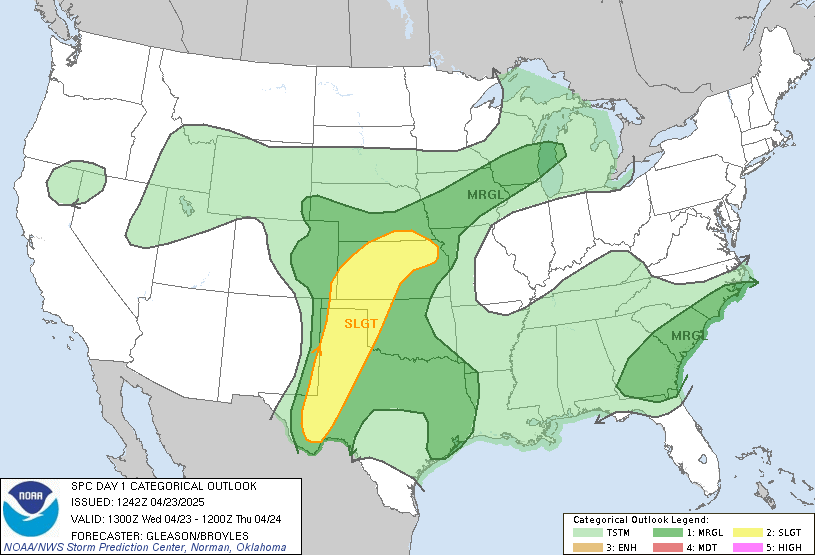 HRRR For this afternoon shows line of strong to severe thunderstorms developing in E. PA but by the time it gets to Philadelphia it dissipates into rain with some thunder. This area is associated with better 850-500mb vertical velocities and shear.
For those out to the west the possibility exists for strong winds and hail, especially towards the Harrisburg area. The latest MesoAnalysis shows that hail parameters are on the rise, especially towards south central PA.
After today's activity the cold front will drop through the area tomorrow, but even still high temperatures may make it to 80. The full brunt of the cold front won't be felt until Tuesday and Wednesday where high temps will struggle to hit 70.
I hope everyone enjoys the warm weather today. If you live to the west of Philadelphia, stay vigilant and be careful later on!