Synopsis:
AM showers moving through
Strong to severe thunderstorms in the PM
Isolate Tornado Possible
Strong winds/hail more likely
No organized line (except well west of the area)
Mostly pop-up like storms in supportive environment
Check local NWS office and SPC for updates/warnings
Current radar presentation this morning shows that showers with some heavier bands are moving through the area. There is a severe thunderstorm warned cell passing through Delaware and extreme SNJ.
Current Surface map shows broad area of low pressure over Lake Erie and this is what will be the impetus for stormy weather later on (map will update by itself, so if you are reading this in the afternoon it will look different).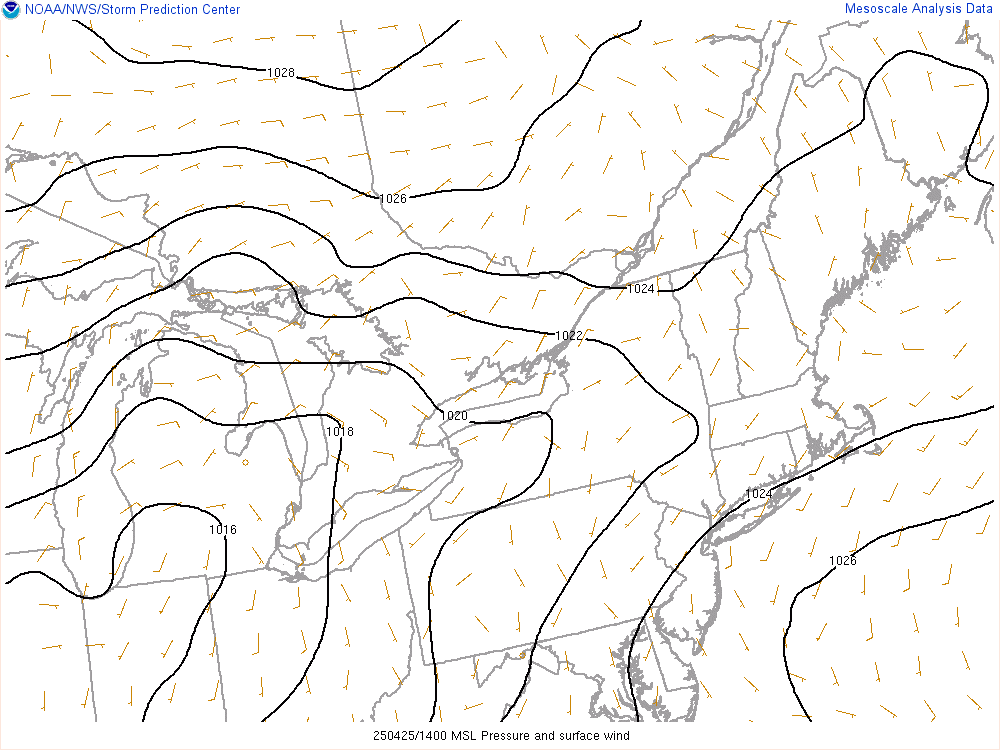 Latest satellite image: Red line indicates next area of development for storms. This is another boundary that will come through the area later today.
Simulated satellite from HRRR model for this evening around 5 PM
Some pop up storms showing up with next boundary. The storms will be strong in nature and it is possible that rotation can be associated with some of them. CAPE values (seen below) will be in excess of 2000J/Kg, supportive of strong to severe thunderstorm environments. This does not appear to be a situation where storms become organized, rather, there will be an area where environmental conditions are favorable for thunderstorms and we will see cells develop within that zone. However, there does appear to be some organization out towards Ohio stretching to NY. This line will fall apart after heating ends this evening. Still doesn't rule out some showers/thundershowers overnight associated with that band.
Also note in the image below the wind barbs. They are of different directions which will aide in any cyclonic rotation of updrafts. This is known as helicity, with increasing wind shear with heights. There is an isolated chance for tornadoes and that threat is real.
Temps this evening likely in the low 80s to upper 70s through our area.
Zooming in, HRRR showing cold pockets will develop behind these storms, suggestive of strong downdrafts and stronger thunderstorm activity.
One more look at latest mesoanalysis shows broad area of elevated CAPE and shear (over Ohio). This area will be moving into PA along with the thunderstorms.
As many of you are probably aware, strong tornadoes moved through Ohio late last night. This setup has potential to also produce tornadoes in PA.
Soundings…
Strong mid-level lapse rates, we have some streamwise vorticity, but low level shear is weak. Likely what we'll see are storms with strong winds and hail and an isolated chance for tornadoes, mainly to the west of the area in C. Pa, but cannot rule it out for the immediate Philly area.
SREF from this morning showing strong probability of supercells in Pa.
---
---
---
June outlook posted this afternoon (weather permitting – severe weather updates come first)
Follow me on twitter