Synopsis:
Spring-like temperatures
Comfortable tomorrow
Chances of rain increase Wednesday
Discussion:
Current temperatures region-wide are in the 60s to 70s. Today felt like a nice fall day. A cool crisp in the air as you woke up this morning. Tomorrow morning will be the same.
Forecast lows tonight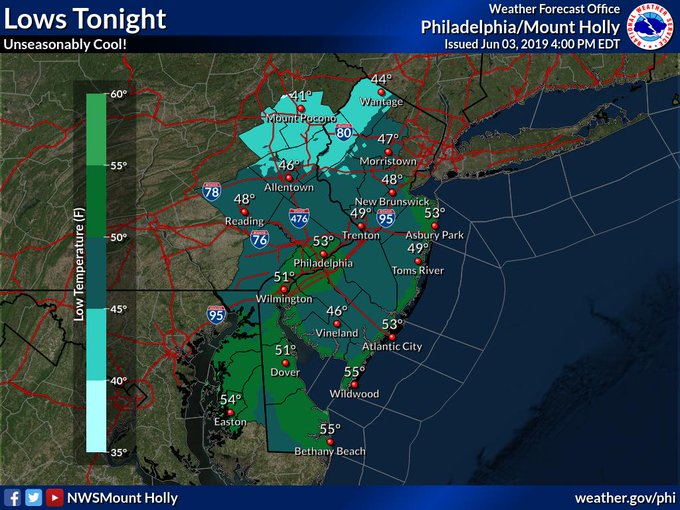 If you live in the far NE of PA, temperatures may dip as close to 40 overnight. You may have to protect your vegetable garden!
---
Spanning out to see the CONUS we have large high pressure that dropped down from Canada controlling things on the E US. Towards the SW US we have a weak surface reflection associated with an upper level low (see in satellite imagery below) and also a low pressure area slowly working its way down from Canada.
Look up at 300 mb (30000 feet) to view the jet streams, we can see the downflow from Canada over the NE US. Out towards the southwest, large upper level low dominating the scene.
Satellite shows some Plains cloud top and thunderstorm development embedded within the flow ahead of the upper level flow. There is also some mid-level shortwave activity.
Zooming in a little closer. Clear skies and high pressure under control.
---
Tomorrow
3km NAM forecast Temps show temps may struggle to even hit 70 degrees in Philly
---
By Wednesday evening, the low pressure area from Canada with possibly some tropical influence will approach our area later in the afternoon.
It does not appear to be a total washout, more like some evening rain. You can also see the large upper level low (shown here as a mid-level cut-off over New Mexico)
But for now, we will enjoy the nice fall/spring weather!
---
Quick Sneak Peek Into The Future…
GFS Ensemble 500 mb height anomaly for the 6-10 window show HP anomalies over the N. Plains with Pac NW and NNE US troughiness.
The Pac NW troughing likely represents some of the E. Pac LP train that I mentioned in the June Outlook (click button below). We expected Northeast US troughing as the -NAO lifted away. And high plains HP is also not a surprise give the two low pressure areas pinning HP in the middle.
---
---
---
Follow me on twitter