Briefing:
Low Pressure over the Great Lakes
Moisture from Gulf of Mexico
Isolate strong/severe weather, particularly further south and west
Heavy rainfall
---
Mount Holly Thunderstorm Outlook
Current Conditions
Satellite view shows large upper level low moving into the Great Lakes. A plume of moisture extends from the Plains into the deep south. Satellite shows deep convection popping up in Texas as well as a blob in the Plains. Larger upper level low spinning over Arizona/New Mexico/4 corners region.
Current surface pressure and wind shows area of low pressure extending from the Great Lakes back into the Central Plains and then diving south into Mexico. We will be tapping Gulf of Mexico moisture feed with the deep low pressure systems. The purple line highlights roughly where stronger storms can develop and the green circle highlights weak surface reflection in Tennessee with Gulf of Mexico feed.
Up at 500 mb we have shortwave trough darting across the Great Lakes. We see another shortwave region over Kentucky and that is responsible for the weak surface reflection. We also see large mid-upper level low pressure area over the SW US. That is helping to drive southerly flow in the mid-upper levels.
We can see at the 850mb level both increased moisture transport from the Great Lakes low pressure, but also moisture transport out of the GOM.
However, the model forecasts suggest that these two areas remain separate. The shortwave over the Great Lakes dissipates remains to the north, and the Kentucky shortwave dampens overall. What results is pop-up thunderstorm activity and localized heavy rainfall. The heaviest rainfall axis will extend over NY, through VT/NH, and into Maine.
---
Forecasts
3km NAM showing stripe of mid-80s just to the east of I-95. I can see this area expanding to the west and covering the immediate PHL suburbs.
Mount Holly going with just that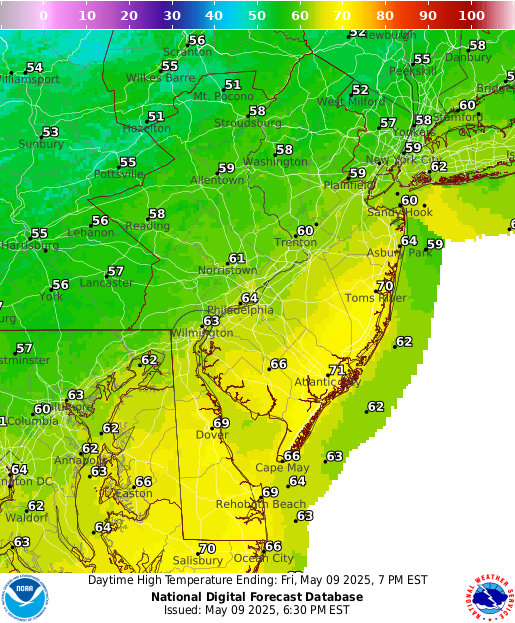 Dewpoints will be in the 60s, making it feel very much like meteorological summer.
---
3km NAM Instability Parameters
CAPE
South of Philadelphia and in C. PA, CAPE values will be elevated. DE in SNJ CAPE values may reach 2500 J/kg.
Soundings at 0z tonight (8PM) over Philly actually show signs of strong veering of winds as we approach the surface and plenty of mid-upper level speed shear. The hazard type indicated here is for tornadoes (its computer generated), but we lack mid-level lapse rates and the PWATs are high, lacking the explosive nature required for tornadic supercells.
PWATs will generally be 1.75-2″ in and around the Philly area.
Despite this, there is asynchrony between the two areas of low pressure and neither can quite get together and create something more. As such precip will be localized, with potentially up to 2″ of rainfall in thunderstorms, focused primarily to the south of Philly.
---
Synopsis:
Warmer temps, humidity returns
Areas of low pressure approaching but cannot sync up
Thunderstorm activity expected, isolated severe
Heavy rainfall in pockets, most likely south of Philly
---
Air Quality:
Current air quality is clear!
The AQI is based on a scale of 0-500, with 0 being no issues and 500 being very hazardous to everyone and an emergency condition overall. Today we will be between 0 and 50, so generally fine for all people.
More specific air quality information can be found at airnow.gov
---
---
---
Follow me on twitter