Briefing
On/off clouds, warm day
Chance of isolated thunderstorm
Satellite
The satellite shows quite a bit of clouds over the area with some clearing in the immediate Philadelphia area. There is a weak cold front to the north slowly making its way down.
Zooming in we can see the clearing quite well. Some of those rumbles we had last night are now well off the coast.
Current surface pressure map shows this low pressure area as well
Forecast
High temperatures right along the Philly corridor should top out in the low to mid 80s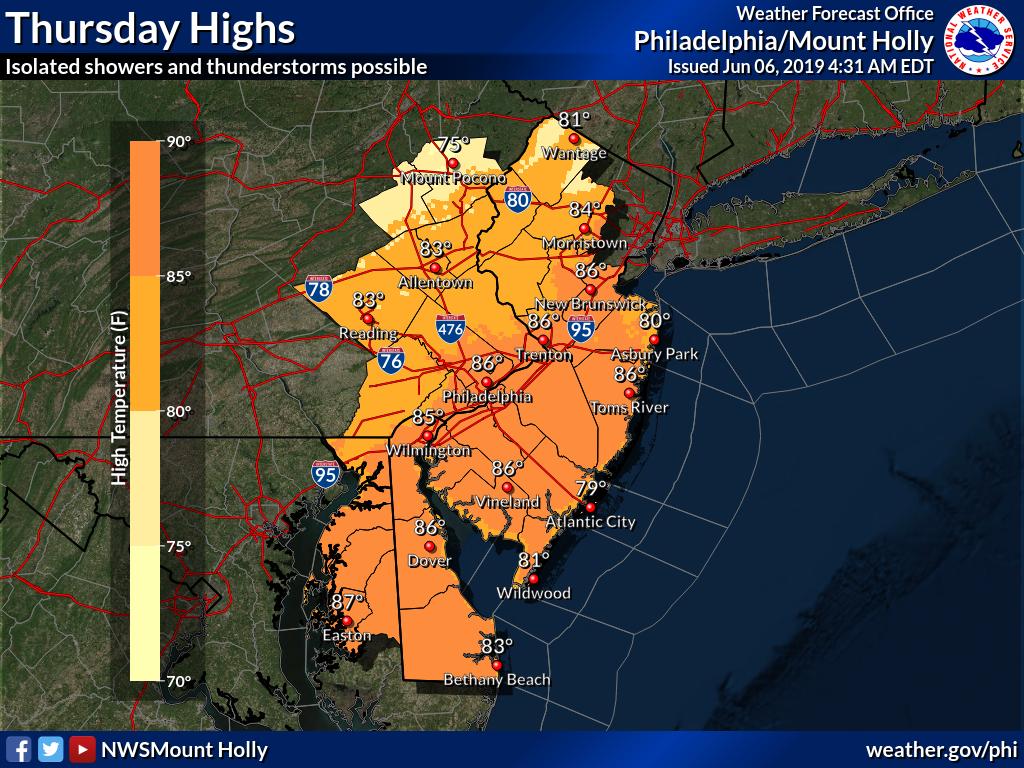 We will be increasing our relative humidity in the mid-levels, and there will be some CAPE around in the area with C. Pa and S. NJ having the most CAPE
Combine some CAPE with low shear values and this will result in pop-up like thunderstorms this afternoon, isolated in nature, but a possibility nonetheless. 3km NAM at 5PM image below. Storms can start to pop up as early as 1 PM, mostly to the west and to the south.
Otherwise today will feature on and off clouds for most of the area. A generally quiet summer-like day. Chances for a thunderstorm in Philly are about 20%.
---
Air Quality:
Current air quality is moderate, meaning those who are sensitive may want to limit outdoor exposure.
The AQI is based on a scale of 0-500, with 0 being no issues and 500 being very hazardous to everyone and an emergency condition overall. Today we will be between 50 and 100, so generally fine for all people.
More specific air quality information can be found at airnow.gov
---
---
---
Follow me on twitter