Briefing:
Heat building today and tomorrow with chance of storms
Warm front Tuesday AM will bring with it stronger storms
Thursday ~ Saturday heat wave possible
Backdoor cold front for next Sunday
Current Overview:
Surface from earlier this morning shows a low pressure system spanning the Plains, increasing their severe weather threat. This overall pattern is highly reminiscent of spring weather.
Satellite view shows the trough firing up some storms over Texas and Oklahoma. Lead flow is in the Ohio Valley associated with a warm front. Northeast US under a large high pressure dome but it will be moving east slowly. The warm front will push through tomorrow in our area, increasing some cloud cover and the chances for precip for today and Tuesday.
NAM this morning at 500mb shows the trough out in the Plains
---
Forecast Discussion
The latest out of Mt. Holly depicts quite well the expected weather events for this week. We will be dealing with a warm front enhancing storm and then a possible heatwave later on.
Overall a fairly active week regarding chance for storms. It does not appear to be a complete washout like previous weeks. Just more typical summertime afternoon pop-up storms.
---
Starting today, there will be a chance of severe thunderstorms this afternoon.
Regional View of NWS forecasted severe weather shows most of the severe weather will be west of the immediate area.
The 3km NAM, which is a bit out of range this morning, does show some thunderstorm activity, particularly out in C. PA and MD.
Continuing into Tuesday, the thunderstorm risk remains, including an outside chance at severe weather. This map will likely be upgraded to marginal or even slight chance by later today.
The regular NAM showing some heavy rain and perhaps some stronger storms as well. Also a bit out of range but I wanted to highlight the possibility. This is associated with the warm front that will advance through in the early morning hours Tuesday.
---
First Heat Wave?
Models are starting to pick up on the possibility of a heat wave beginning Thursday
GFS showing a big time ridge building in the southern US expanding eastward into the northeast. This will help bring in warmer temps. There is some shortwave energy embedded within the flow that can contribute to Thunderstorm activity both Thursday and Friday.
NWS actually shows the first 90 degree day perhaps starting on Wednesday.
GFS wants to wait until Thursday however…
GFS showing 100 right along I-95 for Friday
Saturday mid-90s again
By Saturday however, the GFS is showing signs of a backdoor cold front making its way down in time for Sunday. But Saturday, as depicted in the last image above, could still feature temps in the 90s as they are squeezed in between the southern High and the incoming front from the northeast.
For now we will just wait and see how the heat builds. This will be our first true taste of summer. The fact that is is almost July and we haven't attempted a heat wave is something to admire. The overall pattern has been quite stormy and cool. The -NAO pattern continues since the end of April with a possible end in sight in July to truly unleash summer season. We shall see if that comes to fruition or not. NAO forecast below.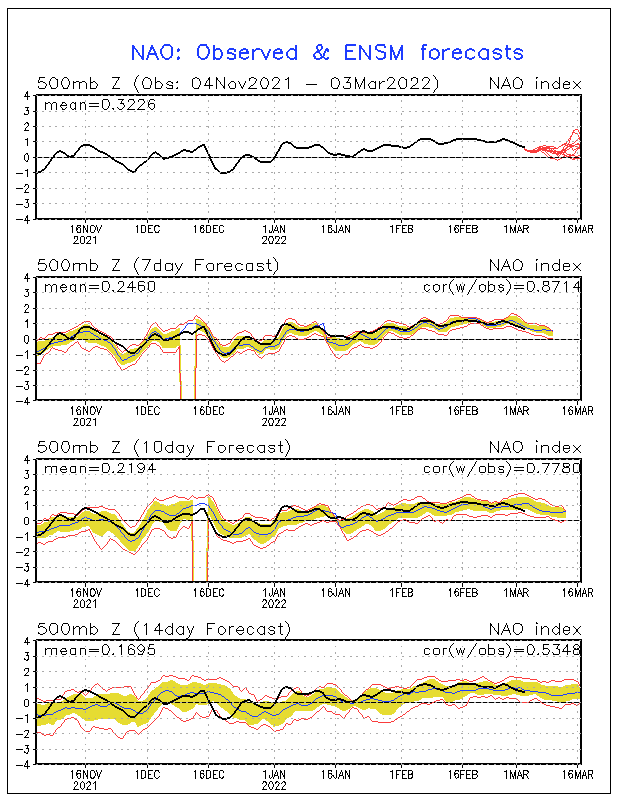 For those who are sensitive to the heat, this week does make for an excellent time to try and head down the shore. Water temperatures are comfortable in the upper 60s to low 70s. But don't forget to bring the sunscreen!
An update may be possible this afternoon or tomorrow depending on how the thunderstorm activity evolves.
---
---
---
Follow me on twitter