Briefing
Soggy day yesterday
Flood Warning in effect for the Schuylkill River
Clearing today, warm day with temps upper 80s to 90
Warm weekend ahead, low 90s likely
Keeping an eye on Barry for next week
---
Currently Analysis
Satellite shows our storm system pushing off to the east and some residual clouds overnight in our area. They will likely burn off during the day and we should see sunshine this afternoon.
Water vapor loop also shows the stable, dry air (blue) pushing through the last few hours. Most of the big stuff has been impacting NE in the overnight hours (green).
And there really isn't a whole lot even into the Ohio Valley and Great Lakes. So it appears we will have a dry weekend ahead with some high pressure building in.
---
Some of the rainfall totals over the last 24 hours are really impressive. Widespread 1-3″ and some locations in Montco, Bucks, Berks, Lehigh counties received up to 6″!
There are also flood warnings out by the Schuylkill River out in Chester, Montgomery, and Philadelphia. You can read more about that here. Turn around and don't drown!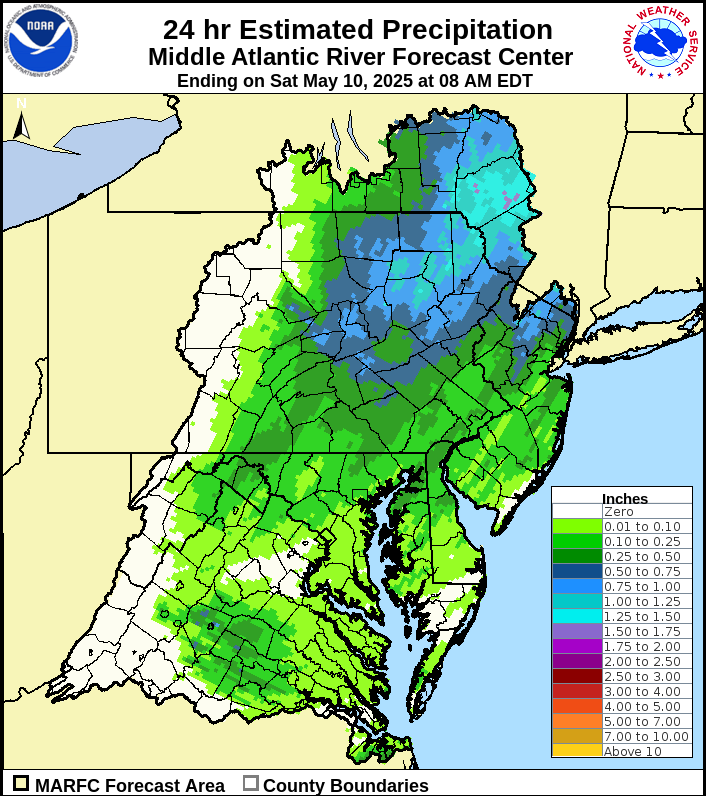 ---
Storm Survey
The National Weather Service will survey some damage reported in Burlington County after last night's storms knocked down some trees.
We will have a survey team going out this morning to investigate damage caused by severe thunderstorms that moved through Mount Laurel Twp, NJ yesterday evening. A final assessment will be posted sometime this afternoon.— NWS Mount Holly (@NWS_MountHolly) July 12, 2019

Twitter page from NWS Mount Holly
---
Forecast Discussion
High pressure we be building in the region today overhead due to divergent flow aloft created in the wake of the trough that moved through. Out west a mega ridge is trying to push east but is meeting resistance from roughing in Canada that is putting up a barrier. There will be a quick mid-level shortwave trough (cold front) that may affect upstate NY and NW PA over the weekend, associated with fast moving jet stream being squeezed between the high pressure building in the west and large upper level low in Canada. This will all push east over the next 36 hours.
In the meantime, Barry will be making landfall and pushing north. It is expected to meet a slow decay as it pushes into the interior US. Impacts for us won't be felt until Tuesday as it gets absorbed into the next trough that will be swinging through on through on Tuesday. The ridge wants to build east, but Barry will keep temperatures from torching.
Dark blue is associated with the divergent flow aloft in our region. This will push east with the upper level low in Canada. Ridge builds behind it in the Northern Plains.
Eventually that ridge will take over our area, but not before Barry has its say on our weather next week. Expect some rainy conditions Tuesday – Thursday.
Forecast
High temps today will be close to 90 degrees. The more sunshine we get the closer to get to 90. Much less humid though. And this will be where we stay through Sunday.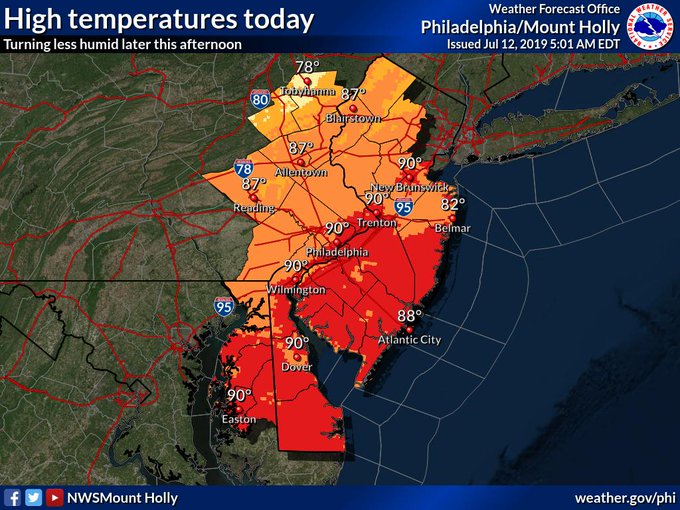 Temperatures Saturday
Temperatures Sunday
---
Should be a nice weekend, low humidity next two days!
---
Images courtesy of the National Weather Service, GOES-East Satellite Viewer, and Tropical Tidbits
---
---
Follow me on twitter for all the latest and greatest weather information