Briefing
Warm and muggy today, temps in the upper 80s
Periods of sun today, but also periods of heavy rainfall
Chance of stronger storms this afternoon, slight risk for severe weather
Severe storms could produce hail, damaging winds of 50+ mph, and perhaps an isolated tornado
Flash flood watch in effect for heavy localized training of rain
Rain could exceed 2″ in some locations
Local Warnings and Statements NWS Mt. Holly: https://www.weather.gov/phi/
---
Current Analysis
As anticipated from the weekly discussion posted earlier this week, the time has come for the cold front and stronger thunderstorm potential. Our latest surface chart out of the WPC is showing a warm front up through NY and a cold front that is just making its way through Ohio. There is also a weak low pressure area (not shown) that is in PA and that will be the cause for some heavy rainfall with embedded stronger storms.
My rough caveman drawing shows the main low pressure area way up into Canada that is dropping a cold front into Ohio. There are two front-like boundaries ahead of it. One about to enter PA (blue dashed line) and one already in PA (orange dashed line). The green arrow is where the first front will move during the day and the purple arrow is where the second front will be moving. In between the two areas will be localized heavy rainfall.
Current Radar shows some stronger storms lining up ahead of the blue dashed line and also a smaller area of pop up storms ahead of the orange dashed line. The green dashed line and the purple dashed line is where the severe weather threat will be later on this afternoon. Its the front moving into W. Pa that will enhance thunderstorm activity for our area later on. Purple dashed line is a rough estimate for the eastern extent of severe weather.
Taking a look at the water vapor loop, you can see storms firing up in W. PA. A flash flood watch is in effect for our area because of the storms later on today. There is currently some shower activity too.
Stronger area of surface vorticity (upward motion indicating low pressure) out further west well help to enhance the precip chances
Discussion
High temperatures today will likely break out into the upper 80s. The more sunshine we get this afternoon, the higher we go.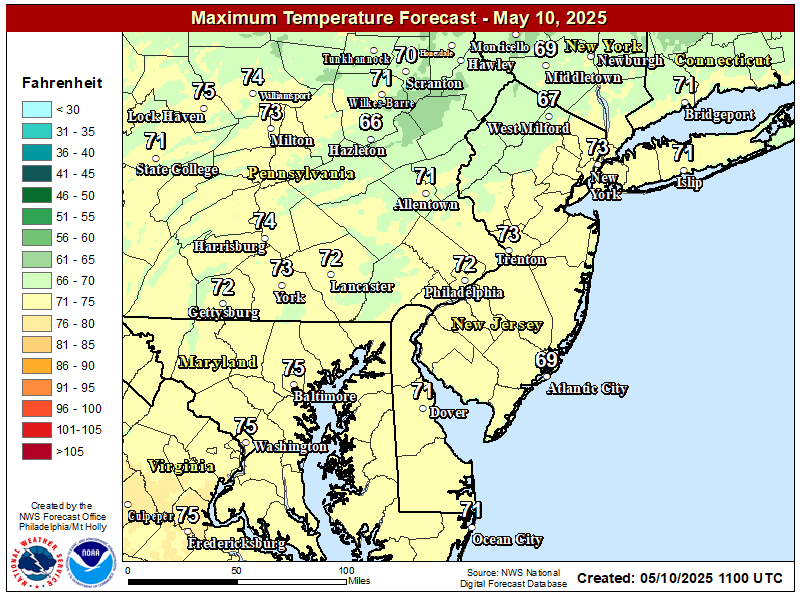 The severe weather thunderstorm out look shows a slight risk for severe weather.
Region-wide, the NWS and SPC believe that most of PA could see a threat for severe weather. Most of the region in a slight risk. Philadelphia itself is in a marginal risk for severe weather. The overall threat is low, but it is there.
NAM simulated radar for 11 AM appears a bit more ambitious with the front running precip near our area. A little bit too aggressive with the heavy rainfall.
And then again later on this evening at around 5 PM. There does appear to be a bit of a line that forms in SE into MD. Will have to watch for damaging winds and hail. There does appear to be another line out west associated with the main cold front. This will likely dissipate in the overnight hours, but we cannot rule out some thundershowers for the overnight period as well.
A lot of precipitation is expected to fall by late tonight. Some spots may receive 2″+ in E PA. Those thunderstorms in the afternoon, depending on where they form, will exacerbate flooding conditions.
The severe weather aspect will be limited due to mid-level lapse rates being on the low side. However, there will be forcing in the hail growth zone, so hail is possible. Damaging winds in excess of 50+ mph can't be ruled out either. There will be significant low-level veering of winds, so a very isolated chance of tornadoes today as well, which cannot be ruled out.
The soundings below show CAPE (available energy) in excess of 3000 J/kg. This is an environment supportive of stronger storms. The surface lift index is -8, which is also a number indicative of potential for stronger storms to form. Also, precipitable water values will be in excess of 2.1. Overall, the severe threat is there, it'll just be limited in nature due to the weaker mid-level lapse rates, but the surface will be active.
---
As always, monitor the local NWS office for official government alerts.
Today should be an active day weather-wise, so it is always a good thing to stay weather aware.
---
Images courtesy of the National Weather Service, Storm Prediction Center, Weather Prediction Center, Nexlab
---
---
Follow me on twitter for all the latest and greatest weather information