Generally a pleasant extended weekend ahead, but keep an eye to the sky, especially Sunday into Monday.
Headlines:
Comfortable tomorrow, storms developing out in C. Pa late moving into area overnight
Sunday, warmer, humid, chance of strong storms
Monday, clearing out in Philly, showers/thunderstorms remain to the south
Discussion:
The general set-up for today and tomorrow is clear skies and gorgeous spring-like weather. We have high pressure sliding off the coast and that will actually give us southeasterly winds and cooler weather from off the ocean.
There is a low pressure area in Canada with a trailing cold front.
Zooming in a little reveals the southeasterly winds. A little difficult to see here, but there is also a small area of low pressure (counter-clockwise wind flow) over Erie, Pa. This image is for 8pm tomorrow.
This area of low pressure will zip to the southeast overnight creating an opportunity for some heavier downpours and possibly some thunderstorms.
Once that pushes through, temps will likely be in the low 60s to start your Sunday. But again, warm front pushes through during the day and temps will soar, possibly into the low 90s. The beaches won't be spared either from the heat.
And then once again, you can see a low pressure area with a cold spot in the western part of Pa. This time our temperature gradient is sharper. Thunderstorm activity will likely be higher and include severe thunderstorms. The image above is for approximately 5 pm. So any relief will have to wait until the late night hours as that cold front pushes through.
Pop-up showers and thunderstorms are possible for our area ahead of the front. There will be some vertical velocities (upward motion) and surface based CAPE creating the opportunity for thunderstorm development. At the moment I don't think anything will be severe but it's possible to get small hail.
Below is the CAPE (available energy), values approaching 3000
Vertical velocities (upward motion), a bullseye over the airport
Early Monday in the AM we have surface low pressure to the southwest of us and it will continue to move East/Southeast. This will still create some shower, perhaps a thunderstorm in our area with a chance for stronger storms to the south.
Temperatures on Monday won't get out of the low to mid 70s area wide once the precipitation moves out mid-late morning.
Beaches: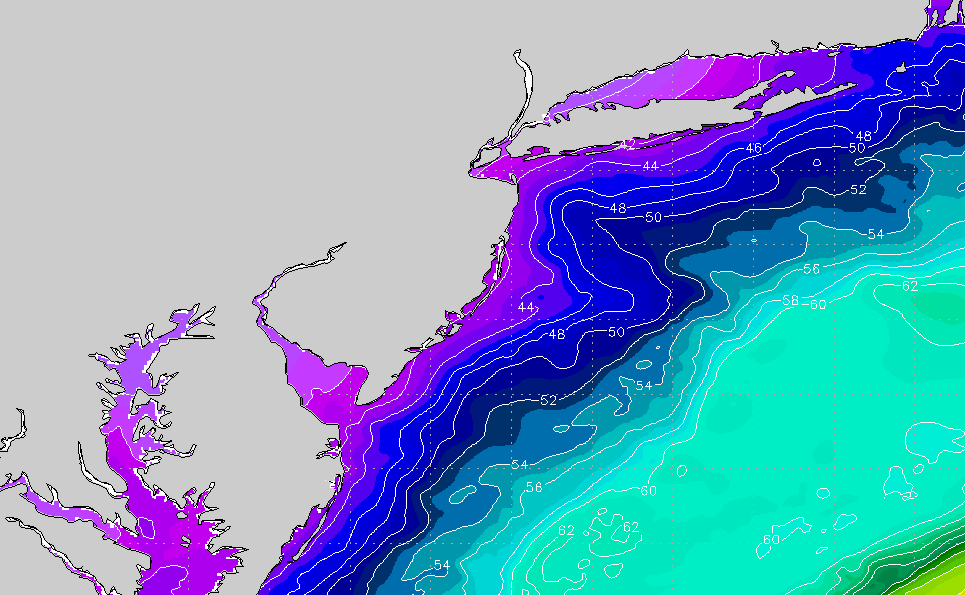 Water temperatures are generally in the 50s with some spots further south in the 60s. You can see warm waters off the coast trying to push northward associated with the high pressure area and winds from the south.
Wave forecasts should be calm today and tomorrow. Sunday PM is when things may get choppy with the storm and frontal activities. Waves may reach 3+ feet early Monday morning with increased swell activity.
NWS has issued a moderate rip current risk throughout the weekend, so please stay vigilant.
Remember to honor those who have fallen in the line of duty!
I hope everyone has a wonderful Memorial Day Weekend!