Synopsis:
Broad quasi-stationary front extending from Texas to Maine
Low Pressure train continues into tomorrow
Elevated Risk this afternoon for strong thunderstorms
Plenty of sun, could be a hot day
---
Discussion:
Storm Prediction Center Convective Outlook Day 1
Currently on our surface map chart we see elongated front stretching from off of Main into Texas. This has both been responsible for the severe weather outbreak int the Plains and the rocky weather here in the northeast.
Currently on visible satellite we see the low pressure areas. Over the OV there is a cluster of storm highlighted in purple. This area will be responsible for our thunderstorms this evening. But before then, you can see mostly sunny skies, which will help with increasing instability.
Zooming in…
Model Forecasts
Temperature forecasts today will be varied in the area. Those south of the front will be hot, possibly approaching 90 degrees. Those north of the boundary will be cooler. The amount of daytime heating will also be a factor. But low pressure area currently residing over Ohio (see image #2) will slide east and create easterly winds for party of NJ, pure westerly winds for C. PA, and southerly winds along I-95.
Temps from HRRR for 5 PM:
Regardless, another impulse will arrive from the Mid-west to create thunderstorm activity. In conjunction with a sharp thermal gradient, storms could strengthen as they approach the area.
Convective Available Potential Energy and Wind Crossover shows CAPE values in excess of 3000 J/kg in some spots with significant rotation again near Scranton while the winds in SEPA are more unidirectional.
Thunderstorms around 4 PM:
I would keep an eye on NEPA into NNJ this evening for rotational updrafts. Further south, probably more along the lines of hail and damaging winds if storms become severe.
Soundings show omega in the hail growth zone, 60-70 knot low level jet, and generally uni-directional flow. This is a sounding for SEPA. Some wind rotation is noted in the low levels that will have to be monitored. And relative to storm motion (NW to SE), these winds can help rotate circulation. The LFC and LCL heights are close together, suggesting very weak to no convective inhibition around 5PM.
Short Range Ensembles Forecasts show high probability of Derecho in E.PA with darker shades showing greatest probability
SREF for supercell composites show greatest chance in NEPA with the rotation and better storm relative helicity (better potential for rotation in updrafts)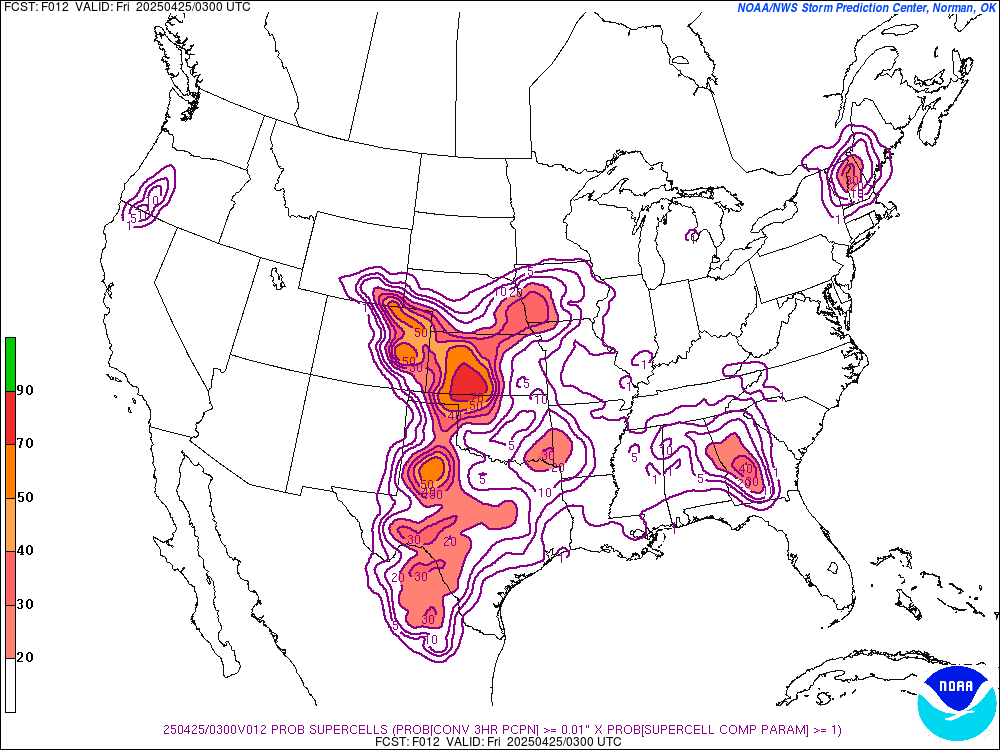 Overall:
Boundary extending from Texas to off the coast of Maine
Sharp temperature gradient in our area
Cluster of storms moving in from Mid-West
Best rotation in NEPA so watch for rotating cells
SEPA best suited for bow echo/derecho and hail
---
---
---
June outlook posted this afternoon (weather permitting – severe weather updates come first)
Follow me on twitter