As stated in the morning entry, we are headed for an active afternoon.
Thunderstorms are starting to fire in CPA with severe thunderstorm warnings.
The NWS has hoisted up severe thunderstorm watch for the area. Storms will likely approach Philly by around 4-5 PM. The biggest threat is wind and possibly some isolated hail.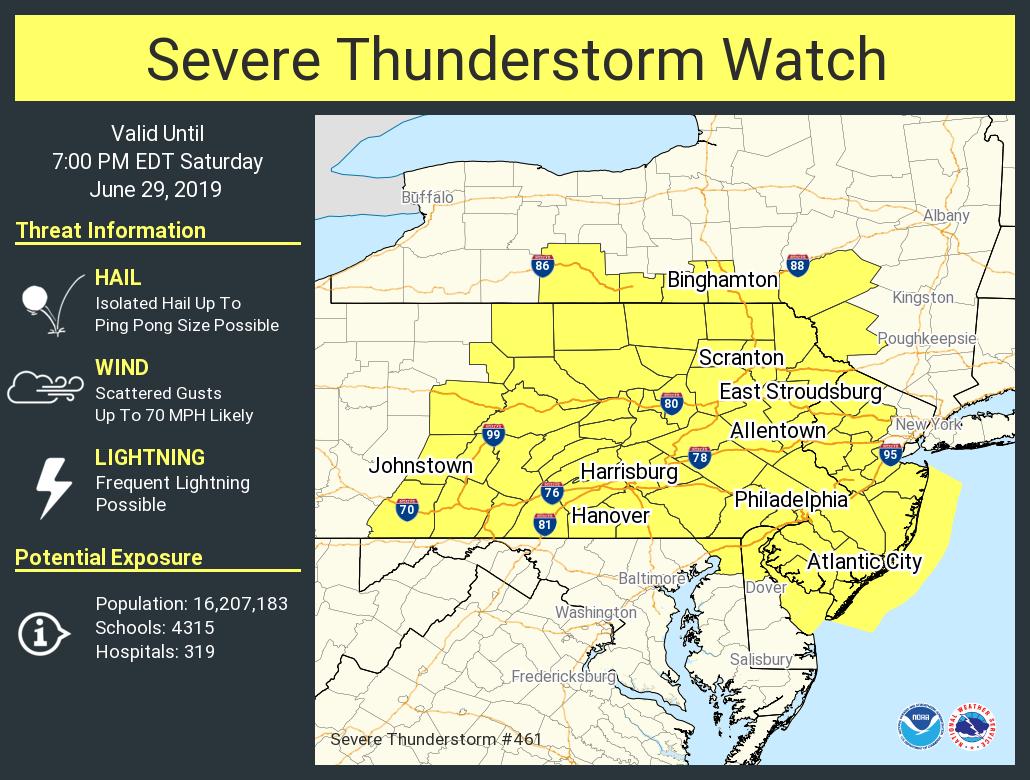 Zoom up radar shot shows some bowing with the lead edge approaching the Lehigh Valley.
Our Water Vapor loop over the last several hours shows the cloud tops really exploding as it enters our region. There is plenty of instability around, and with more sun, the inversion that was hanging over the area has dissipated some. There is still a thumb or dry low level air
Expecting more warnings to go up as the afternoon progresses. You can also see in the last few frames of the WV loop and radar some storms firing in DE and heading into SNJ. We will have to keep an eye on them as well.
You can see the cold pool developing behind the front with 70 degree readings separated from the 90 degree readings.
MUCAPE exceeding 4000 J/kg in some spots and this is the area the storms will be heading into. Not a ton of bulk shear but there is a fair amount of Downdraft CAPE suggesting a cold pool aloft that will help with bringing down the gusty winds and maybe hail.
Surface CAPE similar, high values in SEPA, DE, and SNJ.
Expecting storms to build and produce a fairly potent line over the next few hours.
---
---
---
Follow me on twitter