Briefing
Hot one today again, temps in mid-90s but will feel 100
Cold front dropping down
Line of storms to form later and produce heavy rain, frequent lightning, flash flooding, perhaps hail
---
Current Analysis
Our boundary that was sitting across the area has shifted north, as anticipated. The cold front in Canada is making its march down and will meet up with this boundary later this evening. The cold front will eventually move past the boundary and touch off its own set of storms.
Radar is showing some showers moving through across the boundary in NY. And we can see the early stages of isolated storm activity in WPA/WNY. This will take its time moving east and most likely become more widespread.
Regional satellite airmass presentation showing storms trying to fire over Lake Erie and NW PA in the last few frames. There will be a lot of juice to work with this afternoon, so storms may turn severe.
Mesoanalysis showing some MUCAPE already rising past 2000 J/kg in some spots, particularly SE PA and SNJ. Anything over 1000 J/kg can support storms. Areas that are approaching 3000 J/kg are in environments that support severe weather, if all other ingredients come together.
---
Temperatures and Severe Weather
Temperatures today will be in the mid-90s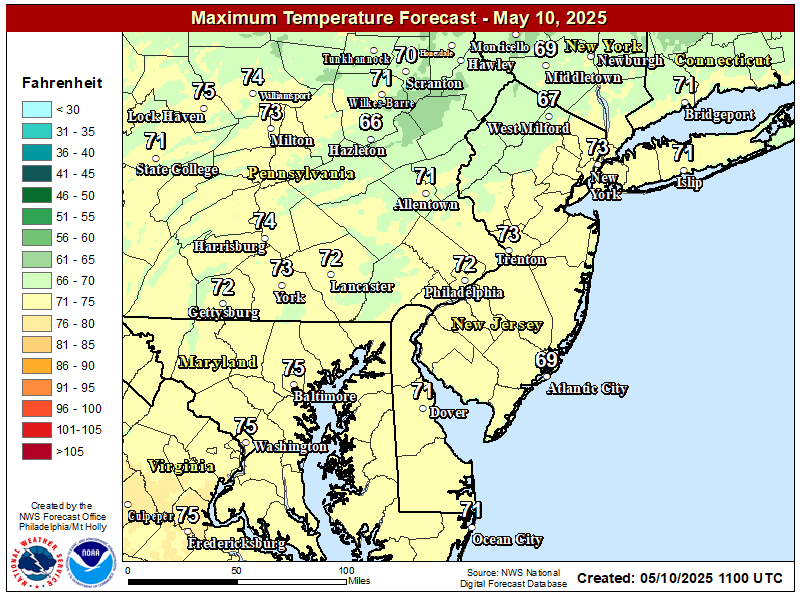 SPC and Mt. Holly on top of the severe weather threat, pretty much the whole region is under a slight risk for severe weather.
---
Model Forecasts
The HRRR from this morning shows the storm activity in W. PA and W NY.
By this evening they approach Philadelphia. There are some signs of a pop up thunderstorm as well ahead of the front.
The high-resolution 3km NAM looks like a little different but also shows (in previous frames) some pop up activity ahead of the main line
HRRR showing CAPE in excess of 2000 j/kg in many areas sticking through this afternoon.
There does appear to also be a layer of convective inhibition in the area, perhaps keeping things in check throughout the evening.
Our soundings below actually show close to 4000 J/kg of CAPE for Philly this afternoon at around 5 PM. Winds are all in the same direction, so linear storm development is likely instead of pop-up meandering cells. But that of course cannot be ruled out. Something to keep an eye on for sure.
Storms will begin to form around 2 PM and then make their way down to our area as late as 10 PM. A few storms may pop up ahead of the main event this evening.
---
Overview:
Mid-90s again this afternoon
Tomorrow turning cooler
Strong storms expected with likelihood of severe weather low-moderate
Frequent lightning, flash flooding, damaging winds, and possibly some small hail
One more day of the oppressive heat and then Sunday looks like a gorgeous day. We will have to endure some thunderstorms today in order to get through to tomorrow but it will be worth it. For those sensitive to heat, make sure to limit outdoor activity between 11 AM and 5 PM. Stay hydrated and in the air conditioning.
That's all for now