Briefing
Warm and muggy again
Chance of thunderstorms, isolated severe
Shore and mountain points with some relief
Low swim/riptide risk, comfortable sea surface temps down the shore
---
Current Analysis
Surface analysis shows semi-stationary boundary over NW PA into NY. There is also a weak boundary just to the SE of Philly and past the PA/NJ and PA/MD border (light beige color). This will stay to the south tomorrow, and then lift back north for Friday.
Satellite presentation shows clear northwesterly flow with some pop-up thunderstorms that was discussed in my previous post. A stalled front in the SE US is actually inducing some convection reminiscent of tropical activity, although there is nothing really expected to come of it other than some rain for the Carolinas.
---
Forecast
With the boundaries pretty much in a holding pattern through Friday, tomorrow's forecast is pretty much the same as today. Temps may creep above 90 degrees for some locations.
Jet Stream for tomorrow shows a little bit of upper level high pressure setting up over the area with anti-cyclonic flow.
With weak frontal boundaries closer to the surface, this favors pulse-like thunderstorms we saw today. There is not much shear given the upper level high pressure, so storms will likely not be severe.
10meter winds show an onshore flow tomorrow afternoon, possibly reaching all the way to Philly.
Depending on how it clashes with our semi-stationary boundaries will dictate thunderstorm activity. We have a lot of humidity and water content in the atmosphere right now. It will not take much to set off storms.
Moving towards the mid-levels, we see some vorticity in the atmosphere, particularly to the west of Philadelphia. As such, the greatest threat for stronger storms remains to the west. Also, the sea breeze will keep things more stable further east.
It is no surprise that Mt. Holly and SPC have given E. MD a limited risk for severe storms. The rest of the area is unlikely to see severe weather, although it cannot be ruled out.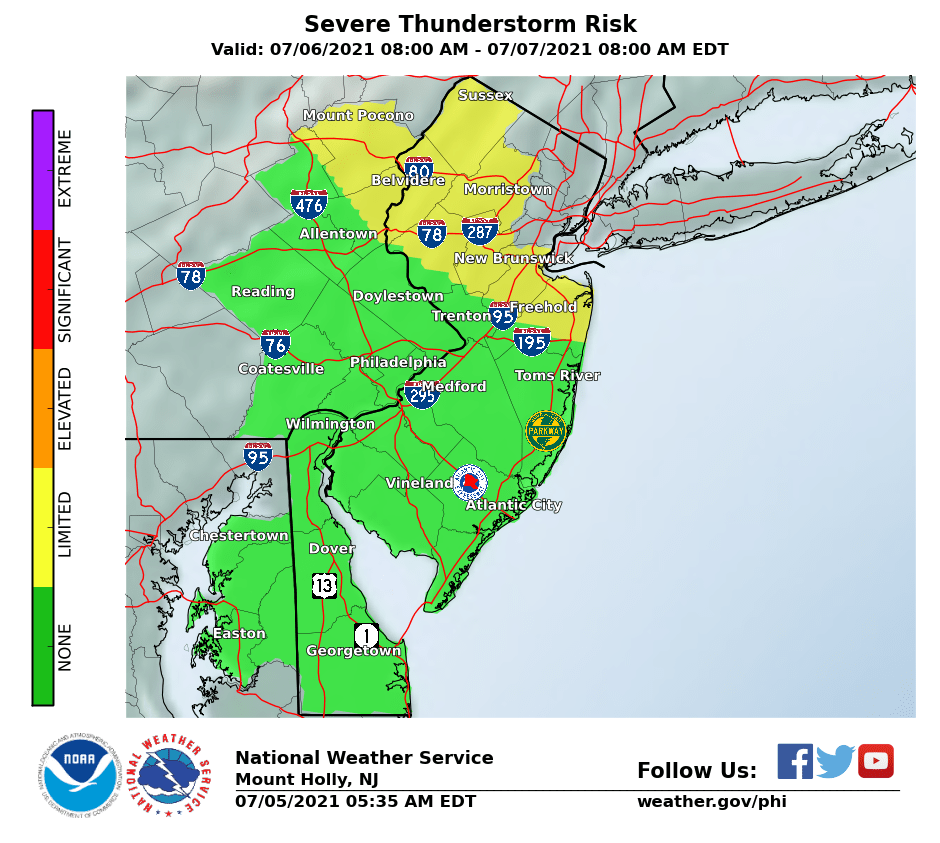 ---
The biggest story will likely be the heat as it was today. Make sure to limit outdoor activity if you are in the city. Temps approaching 90 degrees except down the shore where things may stay around 80 or below. Fairly uniform temperatures throughout the region. Some elevation/topographic induced cooling near Hazleton.
There is an excessive heat risk for the area tomorrow, albeit on the more limited side outside of E. MD where temps will be a bit warmer.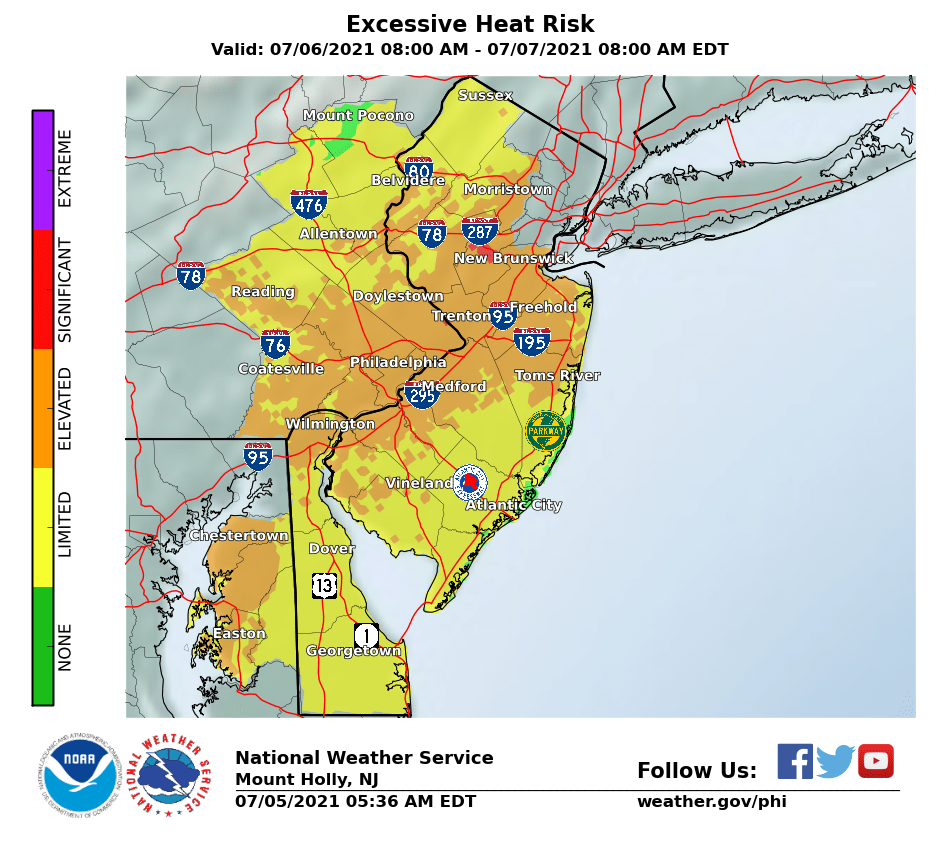 And then Friday as the boundary to our south lifts north, the excessive heat risk becomes more elevated along I-95. Temperatures around the same except down the shore where they will tick up a few degrees. There will be an advancing cold front as well to the NW.
Beaches
Current water temps are over 72 for all of the NJ beaches. As you approach Cape May you will be above 74. For the rest of NJ, the 74 line is just offshore. Its a comfortable swim. Further down into DE and MD, water temps may reach the mid-70s. There is a very warm pool of water about 200 miles offshore with temps in the 80s which is sort of providing the feeding of warmth for the NJ coast.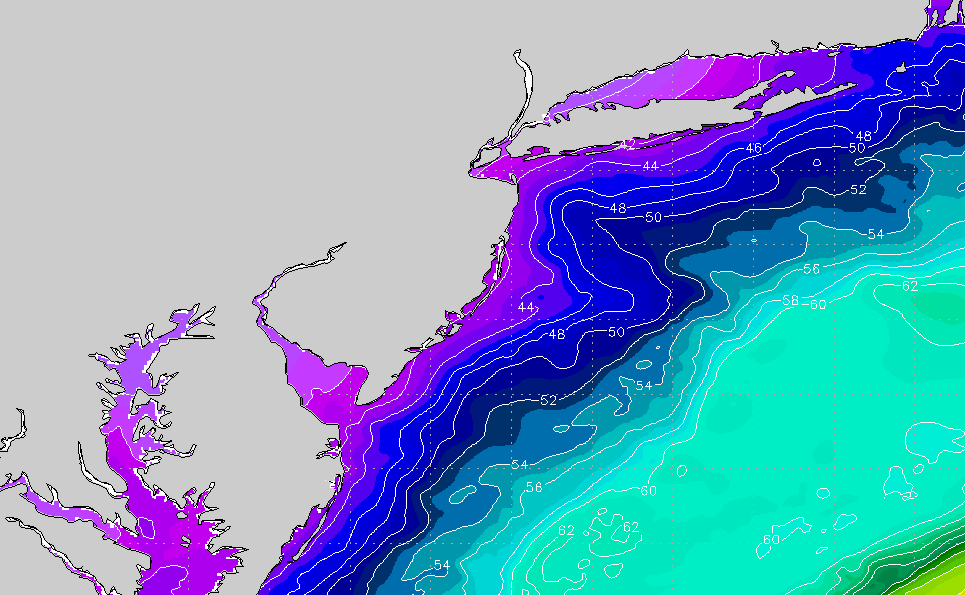 Due to the full moon phases and some of the thunderstorm activity, there is coastal flood advisories for the shores currently in progress as of this writing (7/3 6PM)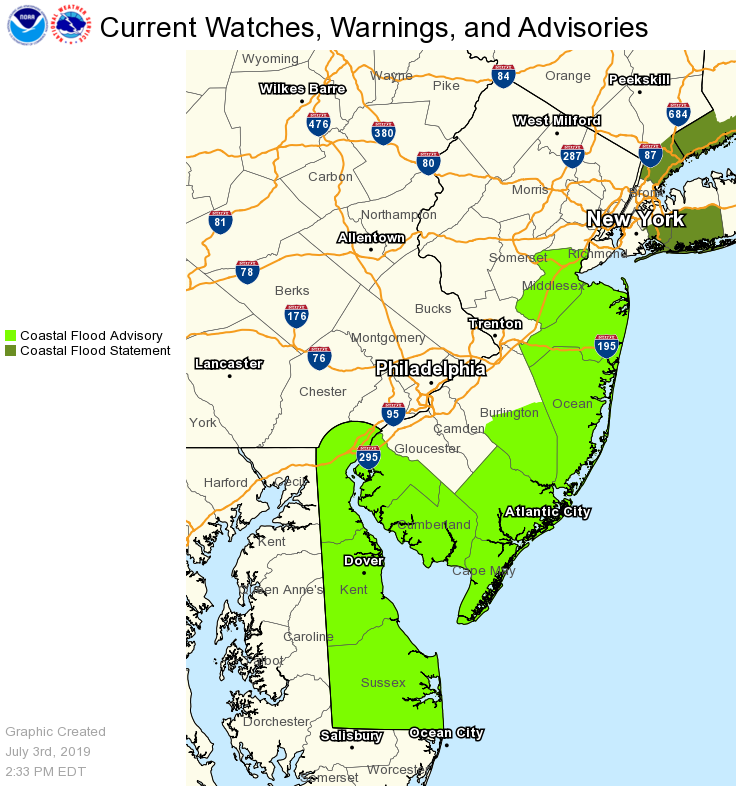 The coastal flood risk will continue into tomorrow with elevated risk potential along the shore and the Delaware. Be mindful when driving in flood prone areas. Turn around and don't drown!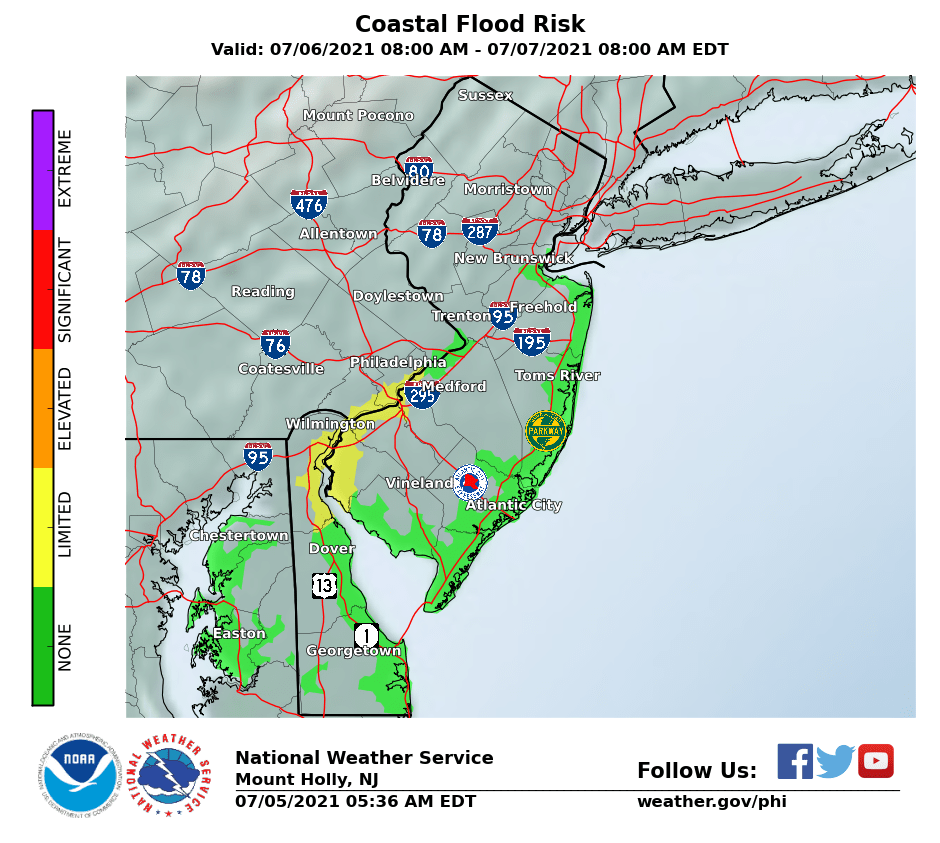 Rip current risk for tomorrow is minimal but it is important to always remain vigilant and safe.
That will be all for this current update. I hope everyone has a wonderful 4th of July!
Next up will be an ENSO update, going more in-depth into what has transpired with the El-Nino in recent weeks.
---
Images courtesy of the National Weather Service, Storm Prediction Center, Surfline, and Tropical Tidbits
---
---
Follow me on twitter for all the latest and greatest weather information