Briefing
Active Day Yesterday
More Comfortable Today, Less Humid
Typical Summer Week Ahead
Hot With Cold Front On Thursday
---
Summary of Yesterday's Events
We saw widespread thunderstorm activity yesterday. In some cases, hail, damaging winds, flash flooding, and even tornadoes were all accounted for on a busy severe weather day.
The NWS issued a statement on the brief landspout that dropped in Mount Laurel. You can find that here. It essentially occurred with very low to the ground rotation caused by veering of winds but do not occur in supercells or mesocyclones. That tend to be weaker and more brief. For further reading on the matter, click here. They are definitely interesting weather phenomenon and more infrequent than its big brother of supercell tornado.
Plenty of rain has fallen as well over the previous 24 hours. Many locations between 0.5-2″ of rain.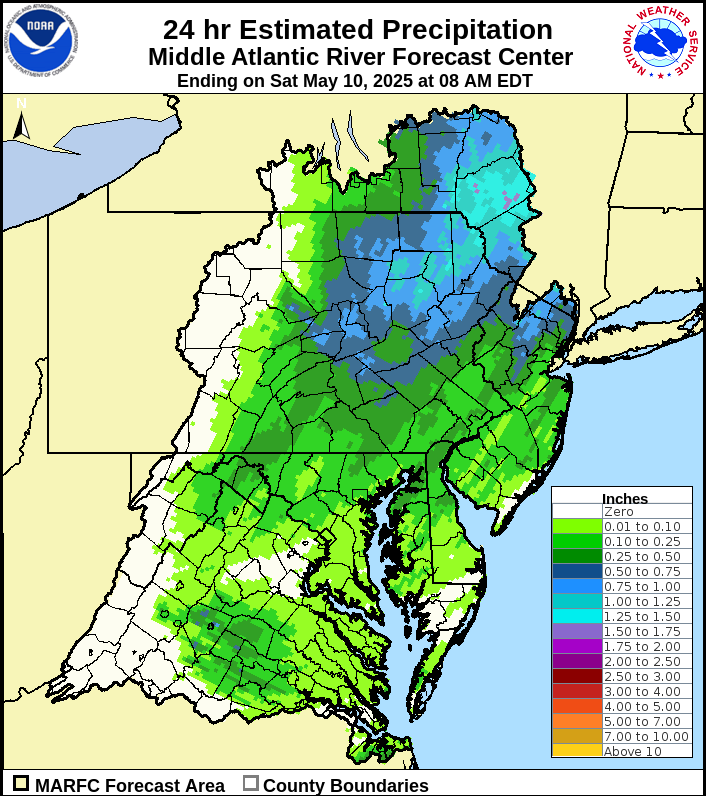 ---
Today's Forecast
Widespread cloudiness throughout the area. There will be on/off cloud cover this afternoon. There is a more dense pocked of cloud cover off in W. PA and Ohio that will slowly creep eastward. We are on the backside of the cold front that moved through yesterday but it has stalled just to the south.
Our surface map shows a weak low pressure area over W. Pa and Ohio. The front is right along S. PA/MD/NJ. This will cause a chance for some more thundershowers this afternoon. The main event was yesterday though. We can also see a bit of a front dropping from that low pressure area. This will move through tomorrow.
Severe weather looks quite limited today and we are only really dealing with a chance for some thundershowers associated with the low pressure area to the west.
The high temperatures are expected to be a little bit cooler than yesterday. Since we are on the backside of the cold front, the winds will be from the north and eventually switch to more easterly as the day progresses. In fact, for some of the area the winds are already northeasterly.
You can see the cyclonic wind out in the ocean associated with the low pressure area that cause the thunderstorms. Weak low pressure area in W. Pa is associated with another weak boundary out in Ohio/W Va. This will be responsible for more cloud cover and you can see that in the satellite image above.
The easterlies are the main reason why the severe weather threat is limited.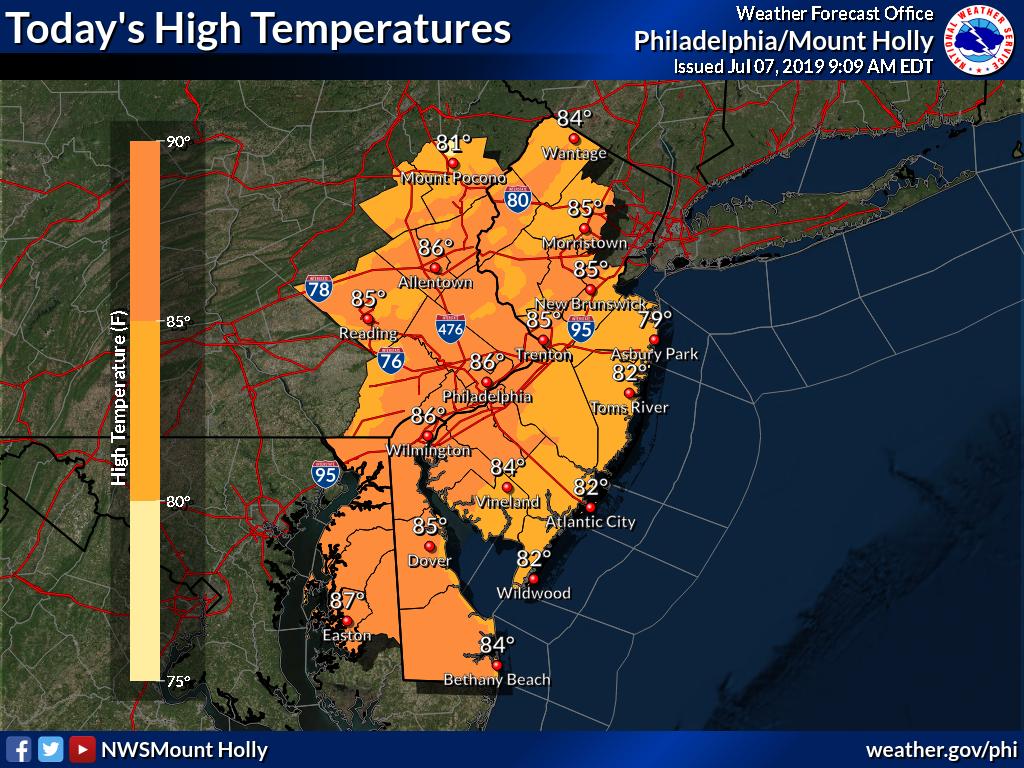 ---
The Week Ahead
Tomorrow our cold front pushes all the way through. Lingering showers behind it associated with some mid-level debris that will spawn a small surface low in the middle of wants to keep things going. Temperatures however will be cooler, we may not even hit 85 degrees.
12z NAM shows the W. Pa surface low and associated front jog east a little and by 1 PM tomorrow is situated in C. PA and that will push through the early morning hours on Tuesday.
Temperatures on Tuesday and Wednesday will rebound into the 90s.
GFS for Tuesday and Wednesday showing low to mid-90s on right along I-95. NYC is looking pretty similar to that.
We will likely remain dry on both days. The heat and humidity returns!
Thursday a cold front approaches from the west and will be here later on in the evening.
For now the severe weather threat looks limited on this day but it is something to keep an eye on. Most of our severe weather days have come with a northwesterly wind flow and storms drop from NW to SE. This cold front appears to be more west to east. Again, something to keep an eye on for later this week.
Friday and especially heading into the weekend, high pressure builds and temperatures are back into the 90s. We could be looking at a heatwave starting Friday.
Welcome to July folks. Even the cold fronts are not that cold. That means this week the beach and the mountains will make for excellent getaways!
Thank you for reading!
---
Images courtesy of the National Weather Service, Storm Prediction Center, Surfline, and Tropical Tidbits
---
---
Follow me on twitter for all the latest and greatest weather information