Briefing
Welcome to July
Nice summer day ahead
Heat wave on tap this week
---
Current Analysis
Satellite view shows a few clouds to the west of the region, otherwise this morning everything is clear.
Water vapor loop shows large low pressure area responsible for some storms in NY/NE yesterday is well off the coast. Northwesterly flow is currently following it.
The flow will switch from northwest to west and you can sort of see it with the cloud tops over Michigan and further west. That area is the lead boundary for our next warmup starting tomorrow.
12z RAP model which shows latest jet stream and northwesterly flow that currently exists of the region
Our surface map shows high pressure building in behind the departing low pressure and a quasi-warm front that is over Michigan that will slight eastwards over the next day
---
Forecast
High temps throughout the region will be in the low to mid-80s, except for the immediate Philadelphia metro area which will be in the mid to upper 80s. Cold spot today is up in the mountains near Hazleton.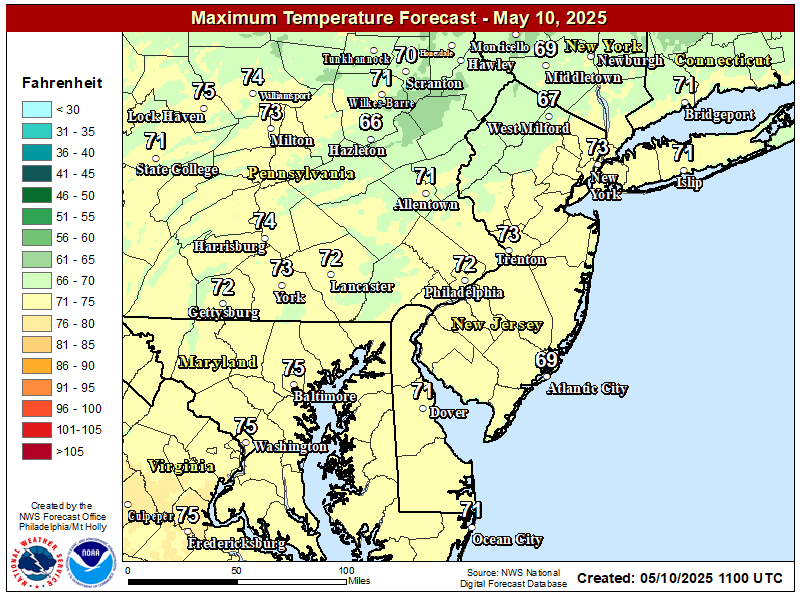 ---
Heat Builds
Looking at the GFS, we see that direct northwesterly flow shift away from our area as the jet stream moves out tomorrow and there is a dome of high pressure extending from the southern plains into the central mid-atlantic
And right on cue, as high pressure builds, our temperatures are expected to tick up a bit. Tomorrow will be the beginning of a new heat wave in Philadelphia. Temperatures fairly uniform with the westerly wind component.
Unfortunately this will also increase our thunderstorm chances as some embedded shortwave activity moves in along the semi-stationary warm front boundary.
GFS showing some available energy moving into the area tomorrow afternoon with the warmer temps.
So not terribly surprising that the risk for thunderstorms is up. Marginal severe weather potential exists for the far NW of the area. The immediate Philadelphia area may see some thunderstorms too. The shore
Just typical pop up nature storms. The soundings for right now show only slight possibility of severe weather, with hail being the primary threat. Flash flooding may be possible as well. Overall, not a huge risk day. More or less your normal summertime thunderstorms.
4th of July is setting up to be much of the same. On the hot side with a chance for some afternoon thunderstorms.
We will talk more about it as we approach the day.
---
Images courtesy of the National Weather Service, Storm Prediction Center, and Pivotal Weather Maps
---
---
Follow me on twitter for all the latest and greatest weather information