Briefing
Rainy morning into early afternoon
Some sun later today
Cold front pushing south
Inverted trough hanging through PA/NJ
Cooler than average temps
---
Current Analysis
Surface analysis shows the front that was over our backyard has shifted south. Winds are currently from the east in NJ and northeast in E PA. Out west you can see the winds shifting to more northerly component. This is ahead of a clearing boundary.
Taking a peak at our surface pressure chart, there is another weak low pressure area in NEPA with an associated boundary draping to the southwest. This is the axis of heavier rainfall so far this morning. It will be sliding south and east throughout the morning.
Radar showing the rain is shifting through Allentown. More showers passing through Philly and NJ and down into DE. You can see where the heaviest rain has fallen, those are the counties with flash flood warnings in C. PA and C. MD
Regional satellite shows the heavy cloud cover in the area. You can also see clearing behind the low pressure area in NE PA. There are clear skies in NY and NW PA. This will reach us later on in the afternoon.
And total rainfall since last night shows the localized 2″+ amounts in C. PA through N. VA.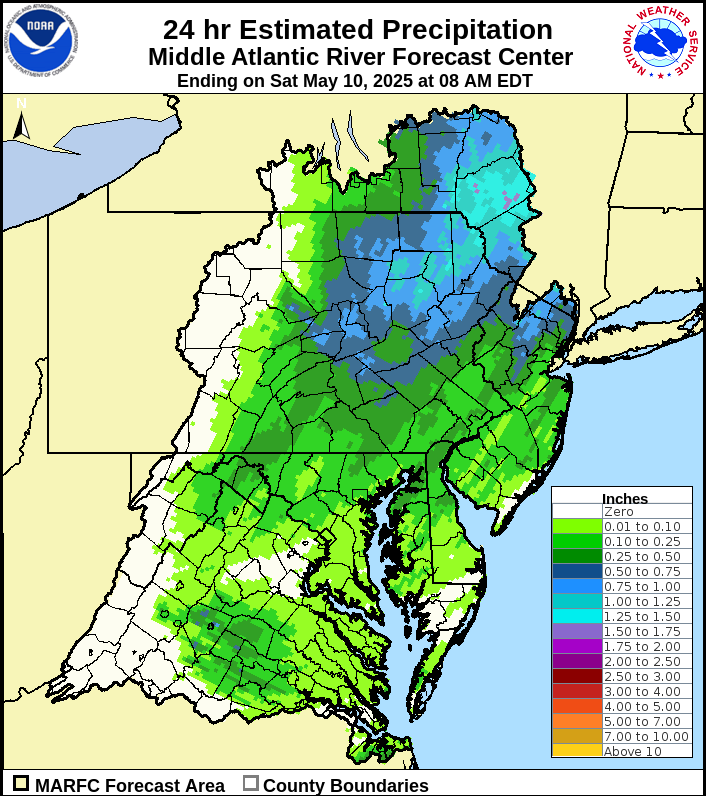 ---
Forecast
High temperatures will struggle to get out of the 70s towards the Poconos and Lehigh Valley. York, Lancaster, Harrisburg all in the mid-upper 70s this afternoon. Philly, Trenton, and Atlantic City, depending on when the sunshine returns could top 80. This time of year it won't take much to bump the temperatures up.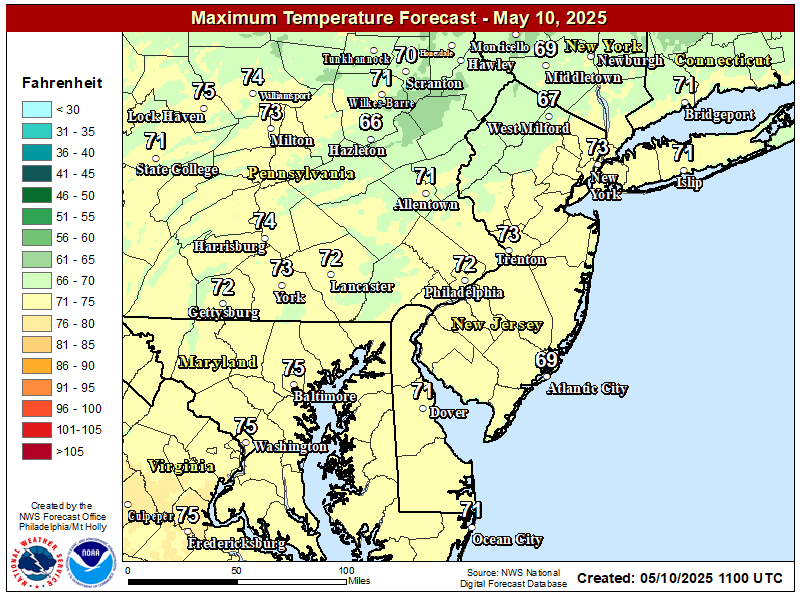 Temperature tonight may hit the upper 50s to the northwest in the mountains, mid-60s into the city. A very comfortable summer night tonight.
Tomorrow, high pressure will build in and with it a northwesterly flow. There is an off-shore hybrid low pressure with some extratropical characteristics that the models have been toying with for the last few days. Nothing is expected to come of it. The cold front associated with it and is hanging over Florida and the Gulf of Mexico could spin up a tropical system. That has some interest for us later on next week should a tropical cyclone develop out of that.
Temperatures tomorrow a bit warmer than today, Philly may attempt to hit 90 degrees. It shouldn't be muggy, so a more comfortable run at 90 than otherwise expected for a July day.
---
That's all for now!
Thank you for stopping by and reading.
---
Images courtesy of the National Weather Service, Storm Prediction Center, Weather Prediction Center, and Tropical Tidbits
---
---
Follow me on twitter for all the latest and greatest weather information