Temperatures in the 60s today
Storm brewing to our south
Precip to start in DE around midnight as rain
Changeover to snow early morning
Dry air battle to the north
Surface Analysis
Frontal boundary is moving through the area right now. Temps are expected to drop into the low to mid 30s by tomorrow morning.
We can see with the current temperature observations where the cold air currently is. It will slowly drift south and east.
We can see where the battle zone is going to shape up for dry air. The 500mb pattern shows where our developing storm is going to be (red circle). We have northern stream troughing split from southern stream troughing. As the southern stream approaches there is going to be a squeeze between the northern streams and southern stream troughing (orange vs green).
Computer Models
HREF short range model with a very tight gradient. The models in general seem to be all over the place, with some showing 4″+ in the city with 12″+ down into MD/DE. Other models cut those totals in half. This one uses hi-resolution models and blends the outcomes together, which is my preference for these type of storms.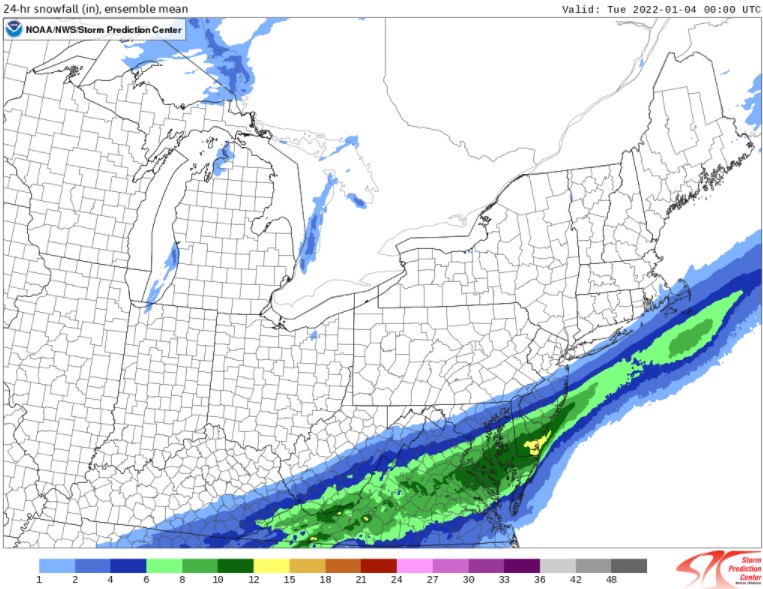 Earlier on twitter I posted another model depiction, this time between the GFS and NAM. These two are on the extremes for snow totals, with GFS showing less dry air near the city and the NAM showing more. I tend to believe the gradient will be really sharp here and either model could be correct.
If you live in DE/SNJ, there is strong indication that snowfall rates will exceed 1″/Hr during the height of the storm. GFS showing really strong frontogenic forcing (Clashing of airmasses) that will help provide the necessary dynamics for heavy snow. However, it will be a heavy wet snow, so I don't anticipate ratios of more than 10:1. Keep that in mind when you see some of the crazy snowfall maps.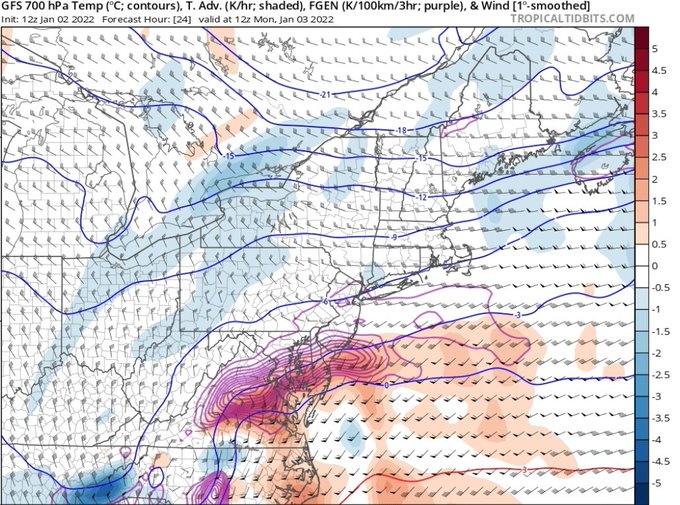 For now, this is my snowfall map, with the addendum that I'd bump DC into the 4-6″ range and make the lines a bit more horizontal with less emphasis on the SW to NE orientation.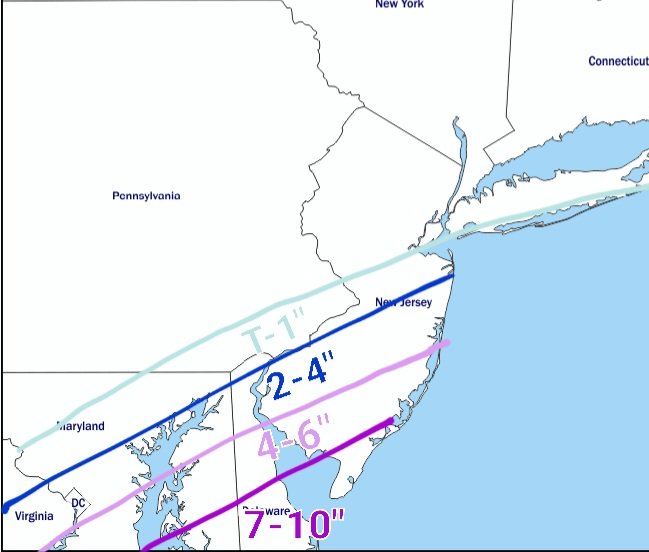 Stay Tuned For More!
Updates are likely forthcoming later this afternoon. If nothing else, I'll probably do a quick Twitter write-up.